Instructors
Dear Colleagues,
The ASTC team aims to establish a culture of opportunity and encouragement for all students. We apply everything we know about learning, teaching, and institutional needs to foster a learner-centered space. All who are involved at the ASTC are dedicated to supporting our academic departments, campus programs, and services, and we take great pride in collaborating with the campus community.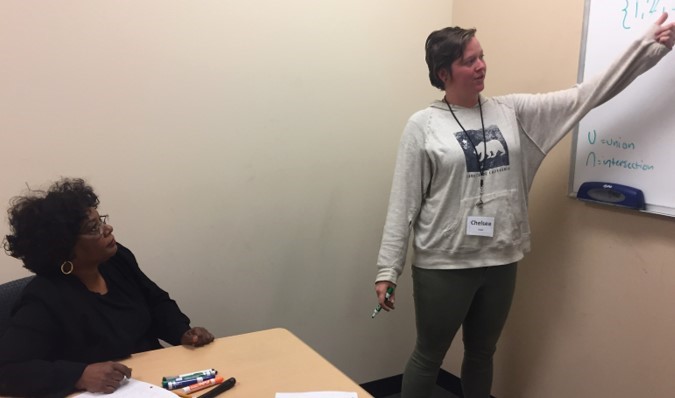 We welcome all ideas and feedback and our door is always open. Please stop by the ASTC on any of our three campuses or give us a call anytime.
Thank you for your interest in and support of the ASTC!
---
"The ASTC has helped me improve my study skills." – Robert Rincon, Jr.
---
The Student Learning Outcomes for the ASTC:
Students will gain academic self-awareness, self-confidence, and self-direction by using ASTC services

Student who use ASTC services regularly will strengthen their independent academic learning strategies and skills.
---
Referring Students to Tutoring
Academic Support Services is currently working to implement an Early Alert System for staff and faculty to identify specific needs for students and to direct those students to help. And, in some cases, this comes from the ASTC.
In the meantime, please refer students to an ASTC office that's convenient for them: Room 114 at the Fairfield campus, Room 138 at the Vacaville Center, or Room 124 at the Vallejo Center.
---
Suggested Text for Your Syllabus:
The Academic Success and Tutoring Center (ASTC) provides support, guidance, and resources to empower Solano students to become strong, independent, and active participants in both their academic and professional pursuits. Recently relocated to the new Library and Learning Resource Center in room 114, the ASTC delivers free quality tutoring, offers a supportive place to study independently or in groups, hosts student success workshops, and provides knowledgeable referrals to college and community resources.

Contact Information:
Email: ASTC@solano.edu
Phone number: 707-864-7000, ext. 7230
Webpage: www.solano.edu/astc

---
Classroom Presentations and ASTC Tours:
An ASTC team member can come to your classroom in the first few weeks of the semester to present a 5-10 minute orientation of ASTC services. Instructors can also schedule a tour for your class. If you are interested, please call the main campus ASTC at 707-864-7000, ext. 7230 or email us at ASTC@solano.edu.

---
Refer Potential Tutors to ASTC

Since ASTC peer tutors are also SCC students, we encourage faculty to send candidates to any ASTC for employment information. All peer tutors must, at minimum:
be enrolled in at least 6 units for Fall/Spring semester

have earned at least a "B" in said course

hold a GPA of 3.0 or better
An ASTC Specialist and the Coordinator will meet with potential tutors for an informal interview, and all of those selected will be trained in tutor pedagogy.
Faculty recommendations are paramount to a robust tutor pool. Tutors familiar with an instructor's curriculum and teaching style are often our most effective employees. Please use the Instructor Referral Form to make a recommendation.

---
Embedded Tutor Program
The ASTC has opportunities for faculty members to host embedded tutors in their courses. The embedded tutor program aims to support classroom activities and/or courses with labs in various academic departments. Instructors may request an embedded tutor by submitting the ASTC Embedded Request form at the front desk of the main campus ASTC. Requests are approved based on need, availability, and funding. For any question, please contact ASTC Coordinator Lauren Taylor-Hill at Lauren.Taylor@solano.edu.
---
Participation in ASTC Student Success Workshops
The ASTC offers free, 50-minute Student Success Workshops throughout the year to all students. Workshop topics include study skills, the writing process, Canvas support, and optimal performance in the classroom, among others. The ASTC can offer any topic so long as it speaks to student success.
There are funds to pay faculty for these workshops. Staff and faculty interested in presenting or who want more information regarding student success workshops should contact the ASTC Coordiantor Lauren Taylor-Hill at Lauren.Taylor@solano.edu or 707-864-7000 ext. 5452.

---
Instructors in the ASTC
Some instructors hold office hours and/or volunteer time in the ASTC. This is a huge benefit to the ASTC, and it especially benefits the student who may be more comfortable talking with an instructor in an ASTC setting than in an office. If you are interested, please contact the ASTC Coordiantor Lauren Taylor-Hill at Lauren.Taylor@solano.edu or 707-864-7000 ext. 5452.