Automotive Technician Program
Click "Here" to Register for Classes
Degrees and Certificates Accredited by:

Click below or go to our catalog to find the requirements to achieve the:
We also offer a Smog Check Training for the California Smog Check Inspector licensing exam.
Program Description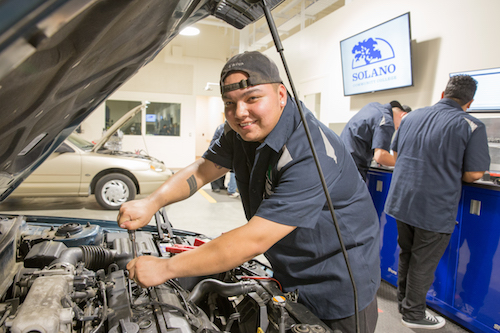 Automotive technology is no longer ruled by sockets and screwdrivers. Computer diagnostics are now a mainstay of the automobile industry and they bring a new level of technical innovation in automotive maintenance and repair. SCC's Automotive Technician program leads the industry with a dynamic curriculum in its new, state-of-the-art learning facility in Vallejo, making it a leader in training with hybrid, electric and clean diesel vehicles. The program also partners with leading car manufacturers to provide students the ability to work on the newest vehicles coming to market.
This program is designed to prepare graduates for entry level employment as apprentice technicians, parts specialists, service consultants, or specialists in one of the many areas of the automotive service and repair industry.
Your New Skills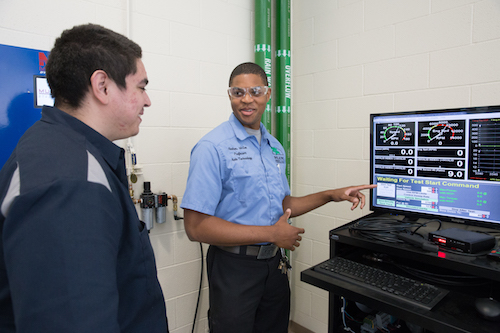 You will be introduced to the theory and practice of automotive repair and maintenance, and study the vital parts of the internal combustion engine and power transmission. You will learn basic electronic concepts while testing, maintaining, adjusting, and repairing batteries, alternators, starters, wiring, ignition systems, and accessories. You will be shown methods of scientifically diagnosing automotive malfunctions, and the techniques of troubleshooting. You will practice using various specialized equipment for examination of exhaust emissions, fuel, and other systems.
Opportunities
The San Francisco Bay Area has a large demand for skilled mechanics who display a special pride in their craft. Job openings will increase sharply in the next few years as current mechanics retire. Opportunities exist among automobile and truck dealers, independent repair garages, vehicle fleet operations, many state, local and federal government agencies and service stations. Click on 'Employment' in the left-hand column to learn more.
The automobile technician-training program at Solano Community College meets the strict industry standards required for ASE Program Accreditation in: Master Automobile Service Technology. The instruction, course of study, facilities, and equipment have been evaluated by the ASE Education Foundation and meet standards of quality for the training of automobile technicians.