Graduation Ceremony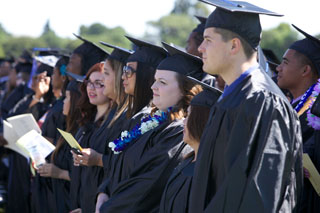 SCC holds a graduation ceremony once a year at the end of the spring term. Students who were awarded degrees and/or certificates in the previous summer and fall and who petitioned in spring are encouraged to walk in the graduation ceremony.
Due to the Governor's Stay at Home Order, the 2020 Graduation Ceremony will be a virtual one available to you, your family and friends beginning May 21, 2020 at 6:00 p.m. on SCC's homepage.
Students who were awarded degrees and/or certificates in the prior summer or fall and those who petition in spring will receive a letter and a list of FAQ's (Frequently Asked Questions) from the college the third week of April. It will have information regarding graduation ceremony participation. You may also view the FAQ's here.
Questions regarding participation in the ceremony, which are not answered in the letter, can be directed to the Student Life Office beginning the third week of April. Questions regarding eligibility should be directed to Admissions. Email them at admissions@solano.edu.
Please note that this letter/invitation to participate in the commencement ceremony is not confirmation of your being awarded degrees or certificates. The award of degrees and certificates is contingent upon completion of all graduation requirements.
Email us at admissions@solano.edu if you have questions or problems.