Graduation Ceremony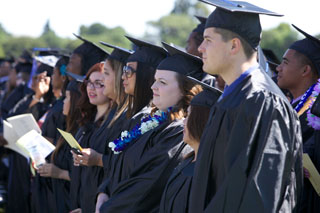 SCC holds a graduation ceremony once a year at the end of the spring term. Students who were awarded degrees and/or certificates in the previous summer and fall and who petitioned in spring are encouraged to walk in the graduation ceremony.
The 2019 Commencement Ceremony will be held in the College's Hollister Stadium on Thursday, May 23, 2019, time is 6:00 pm. The President/Superintendent, Governing Board, faculty, and staff will be there to recognize the achievements of those participating.
Students who were awarded degrees and/or certificates in the prior summer or fall and those who petition in spring will receive a letter from the Student Life Office the third week of April. It will have information regarding graduation ceremony participation. Questions regarding participation in the ceremony, that are not answered in the letter, can be directed to the Student Life Office beginning the third week of April. Questions regarding eligibility should be directed to Admissions. Email them at admissions@solano.edu.
Please note that this letter/invitation to participate in the commencement ceremony is not confirmation of your being awarded degrees or certificates. The award of degrees and certificates is contingent upon completion of all graduation requirements. The letter will have a card enclosed which must be returned to the Student Life Office by the date noted on the card if you plan to participate in the ceremony.
There will be no rehearsal. Participants must assemble no later than, 4:30 pm, at the Doc Hollister Stadium (Football Field). Instructions will be given to you by members of Solano College staff.
Decorum during the ceremony: Let's celebrate and be courteous to all!
We want to make this momentous event enjoyable for everyone, so please be considerate of all the participants of the ceremony. Graduates and guests are expected to conduct themselves with decorum and give proper respect to fellow attendees. Items that detract from the ceremonies, such as balloons, horns, or noisemakers, are prohibited. Applause is welcome, but please refrain from exultations that may be taken negatively or detract from the proceedings. Please remain in your seats until the ceremony concludes. Your completion of an AA/AS Degree or a Certificate of Achievement is a goal worth celebrating. Congratulations!
Email us at admissions@solano.edu if you have questions or problems.