Solano College Library
Research - Books (Textbooks, eBooks, and AudioBooks)
Textbooks
Financial Aid not in yet? Bookstore sold out? We may have your book on reserve.
The library has a collection of textbooks for most SCC courses. We may not have a copy of every required textbook, though! If you cannot find the textbook you are looking for, please ask your instructor to donate a copy and let the Reference Librarian know.
To find a reserve textbook:
In the library catalog, type in your textbook's title or keywords for the title. In your search results, click the "Course Reserves items only" checkbox. You'll be able to see IF your book is in the collection, IF it's available, and WHICH campus it is at.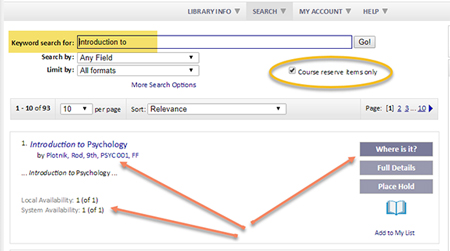 Textbook reserves may be checked out at all campus locations; however, each campus offers different books so please check the location of your book before traveling to a library location.
Or:
Bring a class syllabus, or the class's name/instructor/book title to the library's Circulation Desk with your course number and instructor's name.
Reserves are kept behind the Circulation Desk on your right, as you enter the library. (The center libraries are a little different; just ask the librarian there for help.)
You will need your Solano College library card to check out your textbook.
Textbooks on reserve are generally available for use within the library for two-hours. Some books may be checked out for longer periods; you will be advised on the check-out period for your textbook when you come in.
Abuse of textbook-reserve check out periods may result in (up to a) non-refundable $300 fine and suspension of borrowing privileges.
Back-to-back checkout periods are not permitted.
e-Books
Born in print, then digitized! Access the library's e-book collections anywhere, anytime.
Google Book Search provides full-text or limited previews of books. Books under copyright restrictions (with a limited preview only) may be available through the library. Ask a reference librarian for help.

A full-text library for students, programmers, and IT professionals covering a variety of topics including computer science, desktop publishing, markup languages, software engineering, graphic design, and more.

Over 10,000 eBooks are available for free. Here's a tutorial on searching for ebooks.

Compatible portable device examples include: B&N NOOK, Sony Daily Edition, iPad, Sony Digital Readers, etc.

A database of encyclopedias and specialized reference sources for multidisciplinary research.

An e-book database covering a variety of subject areas.
AudioBooks
"Read" an audio-book on your portable device.
Formerly from NetLibrary, you now have access to over 1,700 Audiobooks through EBSCOhost. Listen to books from the comfort of your computer, any Apple product, or products with Windows Media Player for free.
Things to know:
1. You need to register for a FREE MyEBSCOhost account. Former NetLibrary accounts are no longer valid.
2. You need to install EBSCOhost's Download Manager that will be provided (also available here).
3. If you have difficulties with downloading EBSCOhost audiobooks, contact the EBSCO support team directly.
4. After clicking an audiobook's "Download" button, a screen like this should appear (if you have successfully installed the Download Manager). Make sure you use the Download Manager to complete your download, as illustrated in the image below: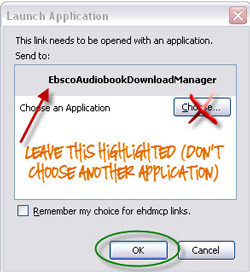 troubleshooting
Getting an error message when trying to download?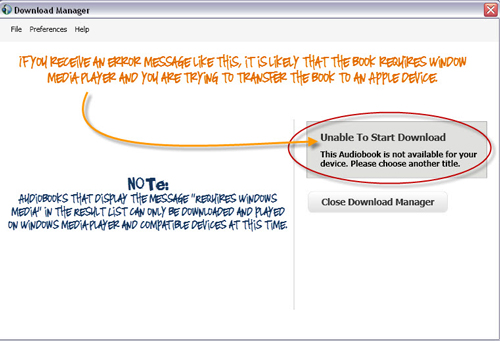 Remember, not all audiobooks will work on an Apple device. Make sure you are not trying to download a "Requires Windows Media" book to your Apple device. See the image below: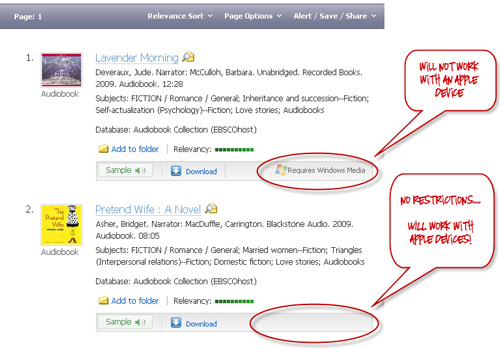 A successful download!