Theater
Solano College Theatre Department's Presents:
The Three Musketeers
Adapted by Charles Morey
Directed by Edward Hightower
Summary of Show: This action-packed adventure follows Alexandre Dumas himself (Rick Steele) as he struggles to complete his epic of duels and derring-do in time to meet his deadline — while the iconic Musketeers (Adam Wayne Gistarb, Aaron Flores, and Nick Reckmeyer), irrepressible D'Artagnan (Levi Duncan), alluring Milady DeWinter (Janelle La Riza), and cunning Cardinal Richelieu (Christopher Mantione) wreak havoc through his imagination. The stakes are high as Constance Bonacieux (Salina Conse) desperately attempts to save Queen Anne (Alison DeSouza) from the fiendish plots of the Cardinal. Dumas follows his bold characters through France and across the Channel to England in a hilarious glimpse behind the curtain of creativity.
Show Dates/Times: April 18th through May 5th. Shows are Thursday, Friday and Saturdays at 7:30pm and Sunday Matinees at 2:00pm.
Tickets: Order tickets at www.SCCThreeMusketeers.brownpapertickets.com. Tickets will also be sold at the door on performance dates. $20 General, $15 Seniors/Veterans/Faculty, $10 Students (*additional service fee for credit/online purchases).
STUDENT RUSH TICKETS!!!!: Student Rush tickets will be available at the Harbor Theatre one hour before show-time for $8 per ticket, cash only; limit: two tickets per student with valid Student ID or other proof of current student status. This offer applies to all performance dates.
Facebook Pages:
www.facebook.com/events/417299441694439
https://www.facebook.com/SCTshows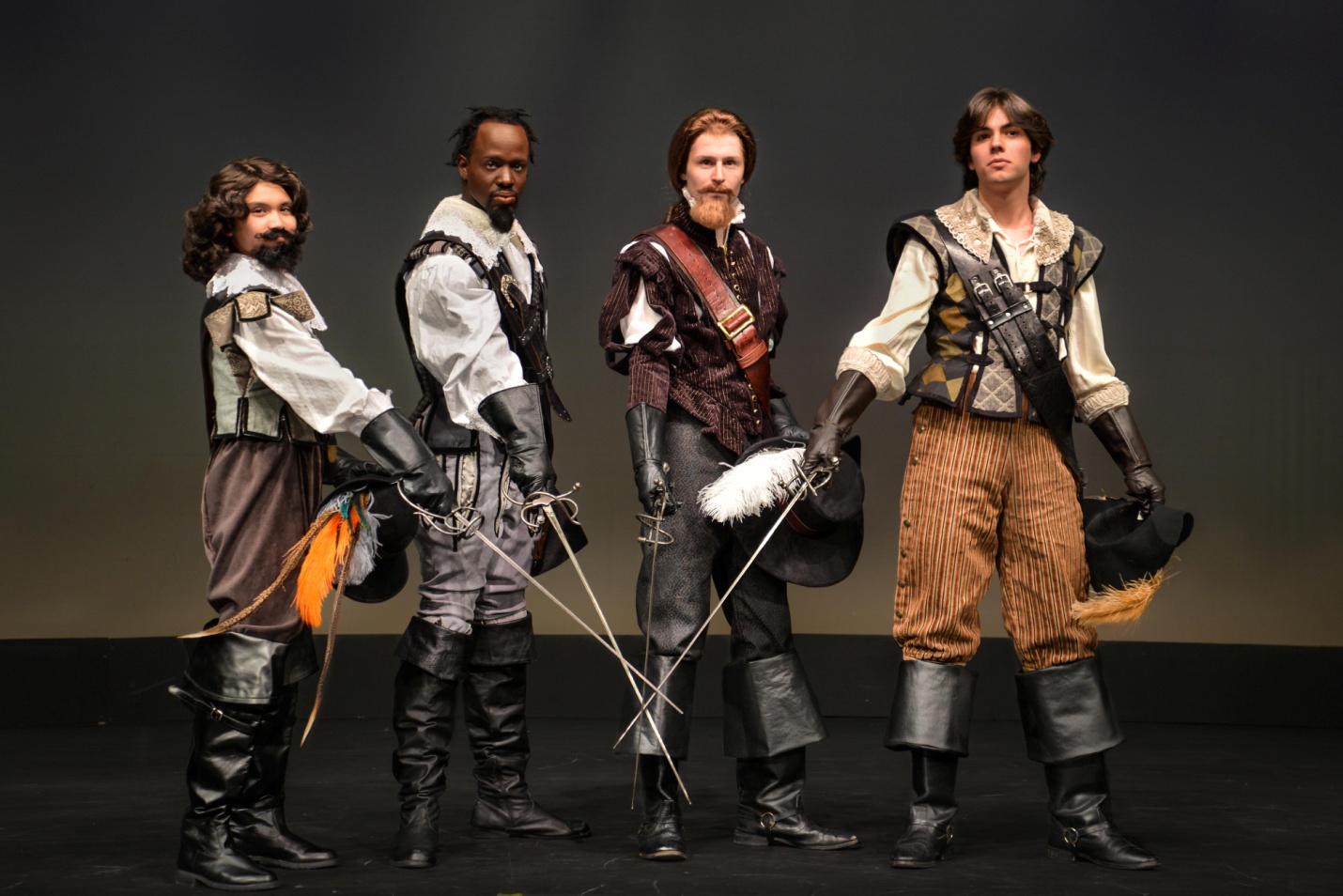 (Left to right: Aaron Flores, Adam Wayne Gistarb, Nick Reckmeyer and Levi Duncan)
Photographer: Amanda Best
More information coming soon!
AND
Keep an eye out for our new and updated theatre web page!