Location and Parking
The commencement ceremony will take place outdoors at the Doc Hollister Stadium (Football Field) on the main campus in Fairfield. In case of rain, the ceremony will be held in the Gymnasium, Building 1700A.
Parking will be available in Lots 1, 2, 3, 4, 5, and 6, with disabled parking available in Lot D. There will not be any parking, standard or handicapped, adjacent to the stadium. Guests will be able to drop off their disabled and elderly passengers in front of the stadium before parking; police and staff will block off entrance to the stadium and be on hand to direct traffic. Shuttles will also be provided at the drop-off points for guests with limited mobility. Shuttle drop-off points are near Lot 6 and near the Gymnasium (Bldg 1400) roundabout.
Disabled guests and graduates who will be driving themselves will be best served by parking in Lot D. The shuttle drop-off point here is close to the lot and easy to walk to after parking.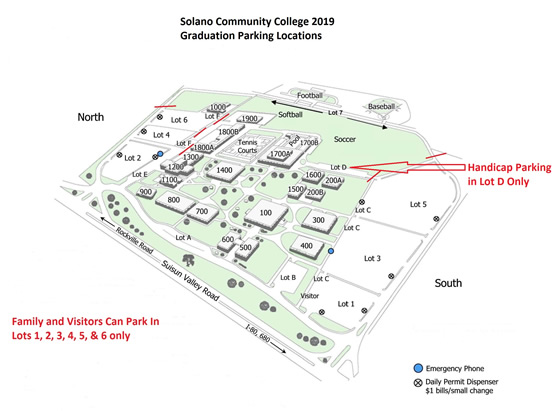 Solano Community College
4000 Suisun Valley Rd
Fairfield, CA
Getting to the college:
From I-80 West:

Take exit 41 toward Suisun Valley Rd/Green Valley Rd
Keep right at the fork, follow signs for Suisun Valley Road/Cordelia and merge onto Neitzel Rd
Turn left onto Suisun Valley Rd
The College will be on your right.

From I-80 East:

Take exit 41 for Suisun Valley Rd/Pittman Rd
Turn left onto Pittman Rd/Suisun Valley Rd
Continue to follow Suisun Valley Rd
The College will be on your right.
Email us at admissions@solano.edu if you have questions or problems.