Biomanufacturing
Biomanufacturing Baccalaureate Degree Program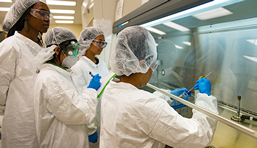 Biomanufacturing means growing living cells (bacterial, yeast, and animal cells) in large tanks called bioreactors and inducing them to produce a protein that serves as a medicine. That protein then must be separated from other cellular components and purified by using techniques that exploit its properties to isolate it away from other cellular proteins. Then technicians use analytical techniques to prove the purity of the isolated protein.

In the future Biomanufacturing will be expanded to include the industrial production of biofuels, biomaterials, stem cells, and other products currently manufactured using chemical rather than biological techniques.
Application Process
PLEASE NOTE: We are no longer accepting applications for the Biomanufacturing Bachelor's Degree Program beginning Fall 2017. However, if you feel you have met ALL of the requirements, including completion of all prerequisite courses, please email Biomanufacturing@solano.edu for information on filling out a late application.
Step 2: Please have the following information on hand:
Unofficial transcripts
Solano Student ID Number
Statement of Interest Essay
Step 3:
Apply during open application period.
More Information
---
For More Information Contact
School of Math & Science
Email:
biomanufacturing@solano.edu
Phone: 707-864-7211
Fax: 707-646-2054
Office: Bldg. 300, Room 335 (Enter building through door 309 or 349)