FOR IMMEDIATE RELEASE
March 6, 2009
SCC's Athletic Facility Remodel Completed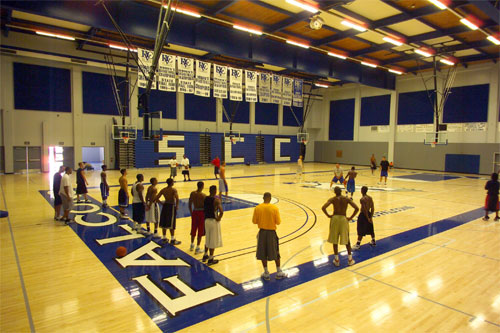 FAIRFIELD, CA - Solano Community College District is pleased to announce that their new gymnasium (Building 1700) is now complete. The finishing touches now being applied will enhance the overall performance, aesthetics and long-term usage of the facility. Intercollegiate games, instructional classes and other activities have already started taking place to accommodate students and staff. The 48,201 square foot building was designed by TLCD Architecture, and work was completed by Alten Construction, Inc. The bid amount for the renovation was $10.2 million, paid for by Measure G bond funds. (Measure G, approved by Solano County voters in 2002 for $124.5 million has funded the projects in Vallejo and Vacaville centers as well as the new 400 Building on the main Fairfield campus.)

The athletic facility was in dire need of a remodel after 35 years of use, and also needed to upgrade its infrastructure to meet earthquake compliance. Students and staff will be able to make better use of learning space, office space and new technologies. The project modernized the entire building with "smart classroom" capabilities with the latest state-of-the-art technologies to enhance student teaching and learning. Other improvements include new audio visual components to benefit students, spectators and contest participants. The new gymnasium boasts a wooden sports floor and also houses new retractable electric-powered bleachers and retractable backboards. There are new finishes throughout the staff offices including new carpet, acoustical ceiling and wall paneling. Team rooms are a new addition, along with a conference room, and a newly enlarged Sports Medicine Room. More new features include acoustical tile ceilings, aluminum storefront systems, electrical fixtures, furniture and casework, as well as plumbing fixtures and ceramic tile in the restrooms. The overall HVAC system was upgraded so the whole building now has air conditioning and heating. Major landscape improvements were made and a new main entrance to the gymnasium has a drop/off turnaround area on the south side of the building that adds to the overall ease of access to the complex.

In addition, a new 7,680 square foot Adapted Physical Education classroom building is being constructed adjacent to building 1700 and is nearing completion (February, 2009). This building will have a much-needed, large weight training classroom and exercise studio space for Adapted Physical Education as well as offering, Pilates, Tai Chi, Qigong and other disciplines. The Adaptive PE building will have completely new furniture and fixtures and is ADA compliant.

Bob Myers, Dean of Athletics and Physical Education, says of the facility, "we are proud that we are now a state of the art facility and our students will benefit from the latest technology for their classes. This has been a long time coming, but has been well worth the wait to finally have these beautiful and functional facilities. Everyone is really excited about these new spaces. Our students, staff and visiting coaches all comment on our wonderful new educational spaces, and the positive way this construction has changed the landscape of the Solano College Physical Education and Athletics Department." Solano Community College is accredited by ACCJC and serves over 12,000 students each semester. They offer transfer programs to four-year universities, a wide range of two-year degrees, numerous vocational certificates of achievement, and extensive life-long learning classes. Classes are offered at the Fairfield Campus, and at Centers in Vacaville, Vallejo, and Travis Air Force Base. Additional information is available online at www.solano.edu.