FOR IMMEDIATE RELEASE
December 11, 2008
SCC Vallejo Center Receives 2008 Project Excellence Award
FAIRFIELD, CA – Solano Community College's new Vallejo Center was recently recognized as a 2008 Project Excellence Award Winner by the National Electrical Contractors Association (NECA). Greg E. Armstrong, with the Northern California Chapter of NECA, presented the award on Wednesday to SCC Interim Superintendent/President Lisa J, Waits, Ed.D, and to Greg and Patti Long of Long Electric Co.

Also recognized for their contribution to the project were general contractor Ralph Larson & Son, Inc., electrical engineer Alfa Tech, Inc., and architect Kaplan, McLaughlin, Diaz (KMD Architects).

The SCC Vallejo Center, a two-story, 40,000 square foot facility located on 545 Columbus Parkway in Vallejo, opened in fall 2007 and includes 15 classrooms and two laboratories, and offers a full-range of student services. Enrollment has grown quickly at the facility such that overflow parking lot was added shortly after opening.

Each year the Northern California Electrical Contractors Association (NECA) holds a competition amongst approximately 90 electrical contractor members known as the Project Excellence Awards. The contractors can submit projects in several different categories which include Commercial, Industrial, Educational, Hospital, and Institutional. The judges, who are experts in the electrical field, rate projects on several factors including: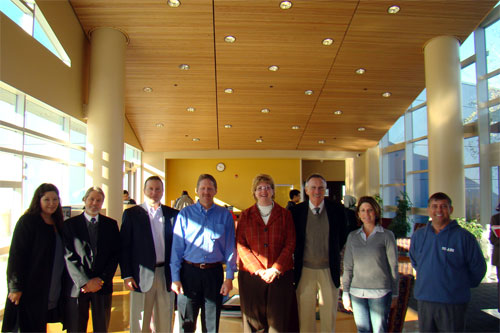 Difficulty of installation
Originality
Aesthetics
Quality of Workmanship
Application of Technology
"This year, in the category of Educational Construction projects over $1 million (electrical), Long Electric was the winner for their project completed at the Solano Community College District's Vallejo Center. Both NorCal NECA and Long Electric were proud to present a copy of this Project Excellence award to the President of the College District Lisa Waits, and others," stated Greg E. Armstrong. "Greg and Patti Long are thrilled to deliver another quality project to the District and look forward to continuing a successful partnership."


Solano Community College
Serving approximately 20,000 students in Solano County, Solano Community College offers a wide range of two-year degrees, vocational education and transfer to four-year university programs, along with job skills training at their Fairfield campus, Vallejo Center, Vacaville Center and Travis Air Force Base locations. SCC is accredited.


Long Electric
Greg Long, an electrician since 1979, established Long Electric Company in 1990. Long Electric offers a full service Electrical and Data Division specializing in Commercial/Industrial/Educational construction to include: maintenance, modernization and new construction. Our Data Division specializes in high speed voice/data network cabling as well as system wiring for Intercom, clock & bell, fire alarm and security systems. Long Electric's dedication to customer service is evident in our desire to anticipate and be responsive to each client's needs. Being on time, on budget and taking pride in each job assures customer satisfaction. We are affiliated with the International Brotherhood of Electrical Workers and the National Electrical Contractors Association. All of our electricians go through a five-year apprenticeship and attend ongoing training classes, which is valuable to quality work.


NECA
NECA is a national association of electrical contractors dedicated to developing and upholding business ethics, management development, technical standards, apprentice to journeymen training, continued education and working closely with the IBEW union. NECA has provided over a century of service to the $130 billion electrical construction industry that brings power, light, and communication technology to buildings and communities across the United States. NECA's national and 119 local chapters (including the Northern California Chapter) advance the industry through advocacy, education, research, and standards development.