Fire Technology Program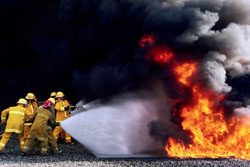 Oil Fire Training
This program was established under direction of Solano County fire protection agencies and offers both an intensive training course culminating in a Certificate of Achievement and a well-rounded educational program leading to the Associate in Science Degree. Instructors in this program are experienced members of the fire service field. In addition, a Fire Technology Academy for recently recruited fire service personnel and pre-service students is conducted periodically. The curriculum consists of courses selected from the regular fire technology course offerings.
For more information contact:
Brian Preciado
Fire Technology Director
Email:
Brian.Preciado@solano.edu
(707) 864-7000 Ext 5516
Associate in Science Degree
A Certificate of Achievement can be obtained upon completion of the 30-unit major with a grade of C or better in each course. The Associate in Science Degree can be obtained upon completion of a total of 60 units, including the major, the general education requirements, and electives. All courses in the major must be completed with a grade of C or better or a P if the course is taken on a Pass/No Pass basis.

Program Outcomes

Students who complete the Certificate of Achievement/Associate Degree will be able to:
Identify minimum qualifications and entry-level skills for fire fighter hiring.
Demonstrate knowledge of fire service history, culture and diversity.
Demonstrate the ability to analyze, appraise and evaluate fire and emergency incidents and identify components of emergency management and fire fighter safety.
Identify and comprehend laws, regulations, codes and standards that influence fire department operations, and identify regulatory and advisory organizations that create and mandate them, especially in the areas of fire prevention, building codes and ordinances, and firefighter health and safety.
Analyze the causes of fire; determine extinguishing agents and methods; differentiate the stages of the fire and fire development; and compare methods of heat transfer.
Calculate flow requirements for fire apparatus; diagram a pump and plumbing schematic for fire apparatus; and apply mathematic formulae to hydraulics problems.
Identify and describe common types of building construction and conditions associated with structural collapse and fire fighter safety.
Differentiate between fire detection and fire suppression systems; design and diagram a wet and dry fire protection system; and identify alarm system components and their operations.
Structure Fire Training
For More Information Contact
Brian Preciado
Fire Academy Director
(707) 864-7000 ext 5516