Caps and Gowns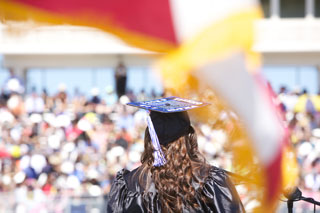 All graduation participants will be required to wear a black cap and gown. You may purchase your cap and gown in the Bookstore. The cost of the cap, gown and custom tassel is usually under $60, including tax. Please contact the Bookstore for their hours of operation at (707) 864-7000, Ext. 7111.
You will be walking on uneven grass at the Doc Hollister Stadium (Football Field). Please make sure you wear comfortable walking shoes. High heels are not recommended. Consider making arrangements for family members to hold extra items such as purses for you. The ceremony is in the evening and it could be cool. Dress accordingly under your gown.
Announcements
Graduation announcement information is available at the Bookstore.
Photographs
A professional photographer will be available at Commencement. Pictures will be taken of all graduates, and proofs will be sent directly from the photographer. It will be your choice whether or not you wish to place any orders for your pictures.
Flowers
Arrangements have been made to have floral bouquets available for sale. They may be purchased at the entrance to the Hollister Stadium beginning at 4:00 pm.
Call the Bookstore at (707) 864-7000, Ext. 7111 if you have questions or problems.