KMD Architects have completed Phase I Design Development for this center. The conceptual Planning Diagram of the Solano Community College Vacaville Campus as seen under "What's New" on the website reflects an attention to the needs of the student body, administration, and site.

The New Vacaville Center will be a multi-story, 40,000 SF facilities that will allow us to greatly expand the course offerings and services to the residents of Vacaville, Dixon, Winters and all of Solano County on the new 60 acres site. Funded by Measure G Bond funds, the new facility will include science laboratories, library services, a computer laboratory, bookstore distribution space, and outdoor spaces for study and relaxation.

We look forward to seeing you in Summer, 2010.
SCHEDULE
Design: Summer 2007 - Fall 2007
Construction: Fall 2008 - Fall 2009
Opening: Schedule to open Summer 2010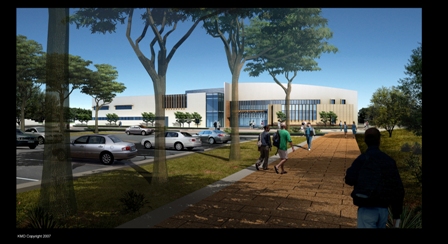 KMD Architectural Rendering of the New Vacaville Center