Strategic Proposals
The Strategic Proposal process is an annual process whereby the college allocates resources based on identified needs.
The submission form for strategic proposals can be found here:

Deciding on priority
Priority is ultimately decided by Superintendent Presidents Cabinet based on recommendations and feedback provided by 2 major cross campus committees. These committees used standard rubrics to score the proposals. The use of rubrics ensures that scoring is consistent and based on criteria decided before the proposals are written. For this reason anyone writing a proposal should pay close attention to the rubrics used for scoring.
The assessment rubric can be found here:

Using Outcomes in Proposals
One of the most important aspects of writing a good proposal is to ensure it is linked to outcomes of your area. For academic areas a good proposal will be based on assessment of Student Learning Outcomes (SLOs). For non-academic areas a good proposal will be based on assessment of your stated Service Area Outcomes (SAOs).
A good technique to use to write a proposal is gap analysis. This ensures that you are writing a proposal that is clearly based on an identified need.
Your SLOs (at course or program level) will state something you want your students to learn
Assessment will help you to identify what your students did learn
Gap analysis is the period of reflection where we identify size, scope and possible causes in the differences between our stated outcomes and the reality
From gap analysis we can identify potential resources we may need to address the gap.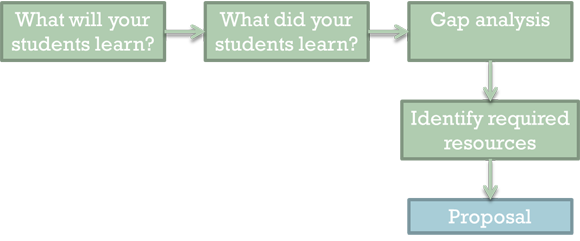 The same technique can also be applied to Service Area Outcomes. Here we are conducting the gap analysis on the difference in stated service and achieved service.
Source of Funding
There are several sources of funding that are available. These are split between restricted and unrestricted
Unrestricted: General, discretionary funds that can be spent without restriction.
Restricted: State or Federal funding that includes specific categories and restriction on use of funds
When submitting a proposal please make sure it only requests one source of funding. This is because different groups rate the restricted and unrestricted funds.
Restricted Funds
Community Collaboratives
Can be used for
Curriculum development
Professional development for faculty
Pathway development
Career awareness (7th and 8th graders)
In the following sectors
Energy and utilities
Manufacturing and product development
Health Sciences / Health IT
Marketing, Sales and Service Industry
With the following additional restrictions,
Only 25% can be used for equipment
New program development must include LMA
Must be a program that local HS can feed into
For information on Community Collaborative funding please contact Deborah Mann.
 VTEA
VTEA funds (also known as Perkins funds) can be used to support curriculum and professional development in CTE area. This may also include student support, instructional supplies and equipment as well as program development. It is typically used to support out current CT curriculum (including welding, nursing, graphic design, automotive, fire and criminal justice) but can also be used to research new program development.
For information on VTEA funding please contact Maire Morinec.
Proposal Tips
Is it based on an identified need?
Make sure the links to outcomes are clear and you include the evidence (assessment)
Is it immediately obvious what you want and how you will get it?
Make sure that the description and title immediately convey what you want to do? Do not over explain, keep it to the point.
Is your budget realistic and accurate?
Is it based on accurate research of costs? Can additional funds (such as grants) be used to supplement the proposal?
Look at the rating criteria
Outcomes: does the proposal address a need that has been identified through outcomes assessment? Is that need clearly articulated and based on robust evidence?
Strategic Direction: Is the proposal important to strategic direction that the college wants to move in (is it well linked to strategic goals of the college)?
Time frame: Does the proposal need to be implemented immediately or could it be delayed?
Student Impact: Does the proposal directly or indirectly affect the success of students?
Proposal Timeline
The proposal process starts in November each year with decisions on priority to be made within 4 months for funding starting July.
Proposal Process Timeline (2012/2013)

Starting the Process
The process will start on November when a template will be emailed to everyone on campus.
The proposal should be completed and sent to Research and Planning before 5PM on January 6th
During the Remainder of January FABPAC and SGC will complete their scoring and recommendations in consultation with their constituents.
In February SPC will review the scores and recommendations of both FABPAC and SGC and reach a final decision on funding allocation.
Developing a proposal

Evaluation Process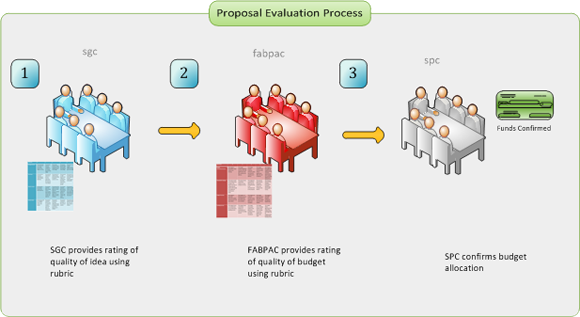 Previously Funded Proposals
A full summary of the 2011/2012 proposals is available below
Frequently Asked Questions
What is this?
This process is simply a way to make resources available for worthwhile initiatives that would not normally be funded through your regular department budgets. It is a step towards being able to allocate resources based on what is best for the college and the students we serve rather than maintaining historic budgets.
Why are we doing this?
As department budgets are put under increasing pressure it is important that the District maintains the ability to be flexible and implement new initiatives. This is particularly important where the initiative may have an impact on student success or college efficiency. Although budgets are decreasing we still want to do things that are important to the District. It is also important that decisions regarding funding are made with representation from across the District.
Where is the money coming from to do this?
Some of the money is coming from small reductions in discretionary budgets, supplemented by portions of restricted funds such as VTEA and SB-70 funds.
Who decides what gets funded?
Proposals go through a rigorous evaluation procedure with clearly defined rubrics for assessment. Shared Governance Council (SGC) and Financial and Budget Planning Advisory Council (FABPAC) will complete the evaluations. These two committees have excellent representation from across campus to ensure decisions on what is important to the district is representative of all groups.
Can a proposal cross multiple years?
A proposal can cross multiple years; however, this should be explicitly stated when the proposal is developed. SGC and FABPAC will help to define the terms of multiple year proposals and will request evaluation reports at the end of each funding year.
Can a proposal contain staffing or release time?
Yes it can but remember a proposal is only approved for one year so absolutely no permanent positions can be included. If the proposal does include release time or temporary positions it should also include a written job description detailing the assignment
How much can my proposal be for?
The single biggest pot of money available is $200,000 of 'unrestricted' funds. It is likely that not all of this would be used in a single proposal. It would therefore be advisable to put in proposals that total less than $100,000. You should also think about using your department's funds for very small amounts.
In 2011/2012 SPC approved 15 proposals with an average value of $13,333. The highest funded proposal was for $40,000
Where do I start?
The process starts with the production of a written proposal. A proposal is simply a written statement of planned work and requested budget. It should also cover other sections such as outcomes and benefits. A template for all proposals will be issued by Research and Planning at the start of the process.
Proposals should be discussed within departments or schools before being submitted via area deans and managers. All proposals submitted before the deadline date will go into the evaluation process.