Counseling Services
Types of Counseling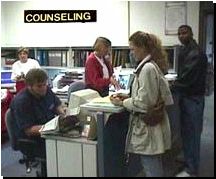 Solano College offers the following types of counseling, free of charge:
Wellness Counseling
In partnership with JFK University, PsyD or MFT (Marriage and Family Therapy) recent graduates or current students of JFK University provide brief (6-8 sessions) mental health therapy. The therapists will be supervised by JFK faculty as they accrue hours toward licensure. These services are FREE and first-come, first-served based on availability and appropriateness of the issues to the type of services provided.
Wellness Services During COVID 19 Physical Distancing Protocols
Due to the COVID 19 physical distancing protocols, Wellness Counselors are unavailable to see students in person. They will continue to see existing and new clients through online video sessions.  
 Referral Process
Referrals are submitted online through a secure portal here.
After submitting the referral form, it will be reviewed by JFK Wellness Counselors who will contact the student directly to assess needed services and set up appointments (due to the nature of brief therapy, there may be a wait time, which the therapist will discuss with any potential client).
**Please note, wellness counseling is NOT for immediate crisis situations.  If you feel you are in immediate crisis, please call police services or the resources below**
Crisis Text Line-Free 24/7 and Confidential (Text "Courage" to 741741)
Solano County 24 Hour Crisis Line (707) 428-1131
More Mental Health/Wellness Resources
The California Peer-Run Warm Line offers non-emergency emotional support and referrals to anyone in the state needing mental health help. The line is toll-free, and it will be staffed daily for most of the day.

The number is 1-855-845-7415

. You can use it via telephone or instant messaging.



Mondays to Fridays: 7 a.m. to 11 p.m.
Saturdays: 7 a.m. to 3 p.m.
Sundays: 7 a.m. to 9 p.m.
What Can Wellness Counselors Help Students With?
| | | | |
| --- | --- | --- | --- |
| Test Anxiety | Managing work, family and school responsibilities | Acclimating to College life (e.g. organizational skills, course load management) | Cultural and Familial Issues |
| Relationship Issues | Life transitions | Conflicts and/or exploration of Identity | Issues relating to LGBTQ identity |
| Housing issues/homelessness/unemployment | Substance use (personal or familial) | Trauma/PTSD | Crisis, Self/harm, suicide (not crisis counselors) |
| Abuse/DV/IPV | grief/loss | Anxiety | Depression |
| Academic Underachievement | Classroom behavioral issues | Acting out behaviors | Social interaction issues |
| Family crisis | Low self-esteem | Divorce/separation | And More! |
 Information for Faculty/Staff
The Assisting Emotionally Distressed Students Guidelines for Faculty and Staff at Solano Community College (pdf) packet can provide more information and insights to assist students on campus, including emergency contact information, the early alert program referral, and external resources.