Counseling Services
Types of Counseling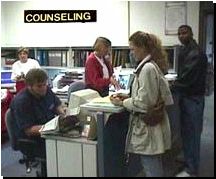 Solano College offers the following types of counseling, free of charge:
TimelyCare - Scheduled Counseling, TalkNow and Basic Needs Services
Whether you're anxious or overwhelmed, you will be able to talk to a licensed provider from your smartphone or any web-enabled device. Licensed providers are available to offer mental health support via phone or secure video visits. Check out the FAQs below to learn more.  All services listed below are FREE for enrolled students.
How can students access TimelyCare?
Students can go to timelycare.com/solano, download the TimelyCare mobile app, or find the TimelyCare icon in their canvas shell to register with their name and school email address. Students can then have visits from any web-enabled device – smartphone, laptop, or desktop. TimelyCare is available from anywhere in the United States.
Who can use TimelyCare?
Any Solano Community College student (with the exception of K-12 special admit students). Please note students will be required to create their account using their student (solano.edu) email address. For brand new students to Solano CC, a Solano email address isn't created until the census date of the class (approximately 3 weeks after the start of the class for 18 week semester courses and approximately one week after the start of class for 8 week courses).
What services are available?
There are four services available:
TalkNow: 24/7, on-demand access to a mental health professional to talk about anything at anytime
Scheduled Counseling: scheduled options to speak to a licensed counselor (up to 12 visits per year)
Basic Needs: Access to low or reduced-cost community resources that provide food and housing assistance, transportation, help paying bills, legal services and more.
Group Sessions: Weekly Guided Meditation and Yoga Group Sessions, plus specialized discussions throughout the year.
Wellness Counseling
What is it?
In partnership with JFK University, PsyD or MFT (Marriage and Family Therapy) recent graduates or current students of JFK University provide brief (6-8 sessions) mental health therapy. The therapists will be supervised by JFK faculty as they accrue hours toward licensure. These services are FREE and first-come, first-served based on availability and appropriateness of the issues to the type of services provided.  Services are available when classes are in-session.
How can Wellness Counselors help?
Wellness counselors provide brief (6-8 sessions) mental health therapy.  These are some of the topics they can help with: test anxiety, relationship issues, life transitions, abuse, anxiety, depression, conflict/exploration of identity, substance use, grief/loss, and more.
Wellness Therapy Request Process
Requests for therapy are submitted online through a secure portal.
After submitting the request form, it will be reviewed by JFK Wellness Counselors who will contact the student directly to assess needed services and set up appointments (due to the nature of brief therapy, there may be a wait time, which the therapist will discuss with any potential client).
**Please note, wellness counseling is NOT for immediate crisis situations.  If you feel you are in immediate crisis, please call police services or the resources below**
Crisis Text Line-Free 24/7 and Confidential (Text "Courage" to 741741)
Solano County 24 Hour Crisis Line (707) 428-1131
988 - text or call to connect with mental health professionals 24/7
Wellness Center
Bld. 1400, Rm. 1428; wellnesscenter@solano.edu
The center will "provide culturally responsive services, in a safe place, where people can "chill"—yes, relax, play games, draw, share poems and other talents, and do so much more! We will offer support groups, co-facilitated by our very own well-trained SCC alumni and students, host presentations and share strategies and make referrals to places that all serve to help us be well."
Solano College Instant Urgent Care/Health Center
Solano College and Instant Urgent Care (IUC) are now offering free telehealth for students, including mental health referral services. To make an appointment for a virtual visit, please go to the following link: https://practicecrown.com/d/instant-urgent-care-fairfield-ca-so70547 or call  (408) 687-4806.
On-campus services include: health counseling and education, TB testing, pregnancy testing, contraception, glucose checks, blood pressure check, over the counter medication, rest stations, first aid, strep and influenza testing, medical and referral resources.
Monday - Friday :  9:00 am - 5:00 pm, closed for lunch 12:00 - 1:00 pm   707-864-7163
More Mental Health/Wellness Resources
Please note these resources are not direclty connected with Solano Community College.
The California Peer-Run Warm Line offers non-emergency emotional support and referrals to anyone in the state needing mental health help. The line is toll-free, and it will be staffed daily for most of the day.

The number is 1-855-845-7415

. You can use it via telephone or instant messaging.



Mondays to Fridays: 7 a.m. to 11 p.m.
Saturdays: 7 a.m. to 3 p.m.
Sundays: 7 a.m. to 9 p.m.
 Information for Faculty/Staff
The Assisting Emotionally Distressed Students Guidelines for Faculty and Staff at Solano Community College (pdf) packet can provide more information and insights to assist students on campus, including emergency contact information, the early alert program referral, and external resources.